About Electrical Engg.
Electrical engineering diploma for three years that serve and needs for the public or private sectors for trained electrical engineers. The academic skills of the students with main focus on subjects like Electrical & Electronics Engg. Materials, Electrical Engg. Design & Drawing, Electrical Machines, Electrical Measurement & Measuring Instruments, Electronics Devices & Circuits, Transmission & Distribution of Electrical Power, Utilization of Electrical Energy, Installation & Maintenance of Electrical Equipment, Electrical Workshop and Project Work.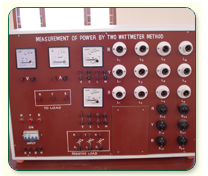 Salient Features of the Course
| SR. NO. | Title | Description |
| --- | --- | --- |
| 1 | Programme Name | Diploma course in Electrical Engineering |
| 2 | Entry Qualification | Pass in Matric Examination from State Board of School Education, Haryana or equivalent from a recognized Board/University. |
| 3 | Course Duration | 3 years |
The department has made rapid strides since establishment and is equipped with best infrastructure facilities. The department has well furnished laboratories and workshops. The various laboratories & workshop that are functioning under this department are equipped with the latest testing equipments. The details of various laboratories/workshops established under this department and machineries/equipments are listed as below. The various experiments as detailed in the curriculum are performed in these laboratories/workshops for the purpose of blending theoretical inputs with practical know-how.
Fuctions
| SR. NO. | Description |
| --- | --- |
| 1 | To work on control panels in Power plants. |
| 2 | Repair and maintenance of Electrical measuring instruments. |
| 3 | Supervision in the production centers. |
| 4 | Erection, installation and maintenance of transmission lines. |
| 5 | Design of Electrical Machines such as Transformers, Alternators and motors. |
| 6 | Testing and calibration of Electrical equipments. |
Career Opportunities
| SR. NO. | Description |
| --- | --- |
| 1 | TGovt. departments like HSEB, Public Health and PWD, B&R |
| 2 | Railways |
| 3 | BSNL Department. |
| 4 | Thermal/Hydro Electric Power plants |
| 5 | Bharat Heavy Electricals limited (BHEL) Industry. |
| 6 | Private sector. |