Principal Message
"Education is the key to success in life and teachers make a lasting impact in the lives of their students." (Solomon Ortiz)
Greetings !!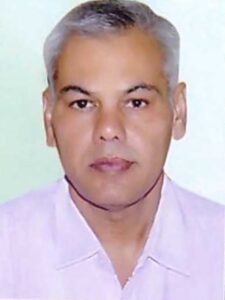 I extend my warm welcome to visit our institute website and to know about the ideas and ideals on which Government Polytechnic Panchkula is built and evolving in tune with local, state and national aspirations. Technical Education plays an important role in the development of the country in general, emancipation empowerment principal of poor and disadvantaged groups/ population in particular it provides various types of man power.
It is the backbone of the country for its infrastructure,industry and economic development. The technical education system provides the practical education to student so as to groom their personalities to such a level that they create a mark not only in the growth and development of our own country but also make a remarkable and positive dent in development knowledge economies of the world. A continuous pursuit is required to meet the demands of technical market today which requires expertise in three key factors; Leadership, Technical knowledge and Managerial skills. Government Polytechnic Panchkula is the edifice of learning, which aims at the multi-faceted growth of the student. Hard work, dedication and perseverance are the important traits to be successful engineers today. This institute provides enriched curriculum concentrating on theoretical as well as practical aspects of technical knowledge to cater to the industrial demands of today. The institution is an amalgamation of experienced and dedicated faculty, excellent infrastructure, an idyllic setting and efficient administration to help students realise their goals and to be diligent to achieve it.
As a Principal and CEO of this institute, I hope to see this polytechnic as top most premier institution in the years to come in the area of technical education through the path:
By having focus in the teaching/learning process on integrating skills such as problem solving and logical reasoning, process orientation, learning ability, English communication and programming fundamentals.
By ensuring Industry participation to ensure actual demand and supply requirements of the industry.
By having a comprehensive system of internal assessment covering all aspects of a student's growth.
For enhancing employability, making summer internships an integral part of the curriculum.
Ensuring institute participation in local community development.
By encouraging the students for Entrepreneurship.
The college conducts a range of events from social awareness to various programs in order to impart life skills, competencies and attributes which are greatly valued in today's global work environment.
Moreover, discipline which is a non-negotiable factor in a student's life on our campus, inculcates the values of time management and punctuality.. Industry – Academia network includes interaction with top corporate managers and guest lectures by visiting professors to facilitate a smooth campus to corporate transition for the students and to enhance their employability quotient.
I wish that that the Institute will continue to leave its mark in the society by shaping the future of the youth of our country and transforming their potential into successful careers.
Have a wonderful experience in navigation through our website.
Daljit Singh
Principal,
Govt. Polytechnic, Panchkula